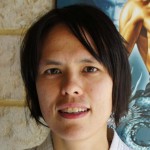 Adeline Cheong AU-6-21
VI Dan International Instructor Examiner & International Umpire A Class
Co-founder Platinum Taekwon-Do
CLAREMONT, CANNINGTON, DALKEITH, MANNING, BRENTWOOD
Adeline started Taekwon-Do in 1988, and has been teaching Taekwon-Do since 2000. In 2007 Adeline and Paul Raymond founded Platinum Taekwon-Do with the Manning dojang which is still at it's current location at George Burnett Leisure Centre.
Adeline has attended umpiring and International Instructor's Courses in San Francisco, Kuala Lumpur, the Gold Coast, Sunshine Coast, Hong Kong, Auckland and the Phillipines.  Adeline enjoys all aspects of Taekwon-Do and has a special interest in teaching children, patterns and upholding the positive values of Taekwon-Do. Like Suzy, Adeline is passionate about encouraging women and girls to be part of martial arts and strives to make Platinum Taekwon-Do a dynamic and supportive environment for everyone. Adeline currently teaches in our Claremont, Cannington, Dalkeith, Manning and Brentwood dojangs as well as planning and coordinating events, examining and umpiring.
Most recently, in September 2018, Adeline and Paul lead a team of 25 competitors to the 7th ITF Taekwon-Do World Cup in Sydney, Australia where the team competed in individual and team patterns, individual and team sparring, power breaking, special technique and prearranged sparring. The team ranging from age 12 to veterans earned a total of 24 medals as well as a ranking of 6th club in the World from a total of 127 clubs.
International Taekwon-Do Federation Instructor No. 1256
International Taekwon-Do Federation Instructors Plaque 201024                        International Taekwon-Do Federation Umpire A No. A-1075                                        Level 1 Coach (National Coaching Accreditation Scheme)
Active After School Communities Coach 46860
Uni Sports 4 Kids Coach (UWA)
Working with Children Check – notice no. 569095
mobile: 0414 932 609

Testimonial
Our family's involvement with the Platinum Taekwon-Do club over the past 4 years has been extremely beneficial to my children (son & daughter) for so many reasons – increasing fitness levels, stamina, flexibility, co-ordination, focus and confidence. Through the tournaments they have not only learnt how to participate as individuals but also learnt to value each team member's contribution.
I only have praise for Adeline and Paul. They are exemplary instructors who nurture their students, bringing out the best in each child/individual. I am very grateful that my children have such wonderful role models in their life and look forward to many more years of association with this great club.
Belinda Mele