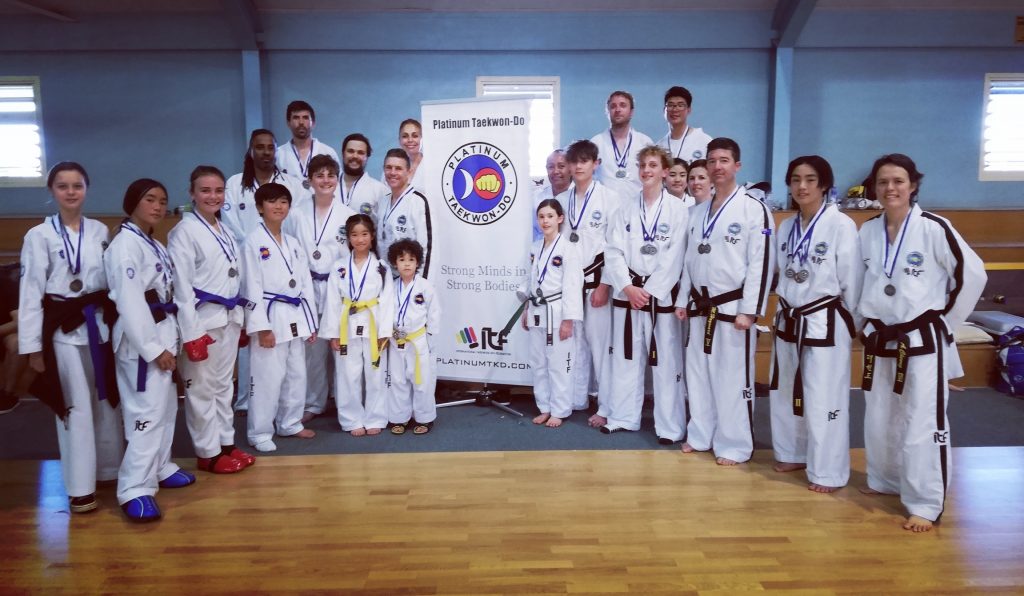 On Saturday 23 March 2019 the 23 strong Platinum Taekwon-Do team traveled the 415 kilometres from Perth to the historic coastal town of Geraldton to compete in the 19th Oceanic Taekwon-Do Invitational Championships hosted by 7th Dan Black Belt Master Jason Bradley. Competitors spanned from age 6 to 50 plus and gathered at the Red Ink Netball Stadium in the Geraldton city centre at 830 am on Sunday morning.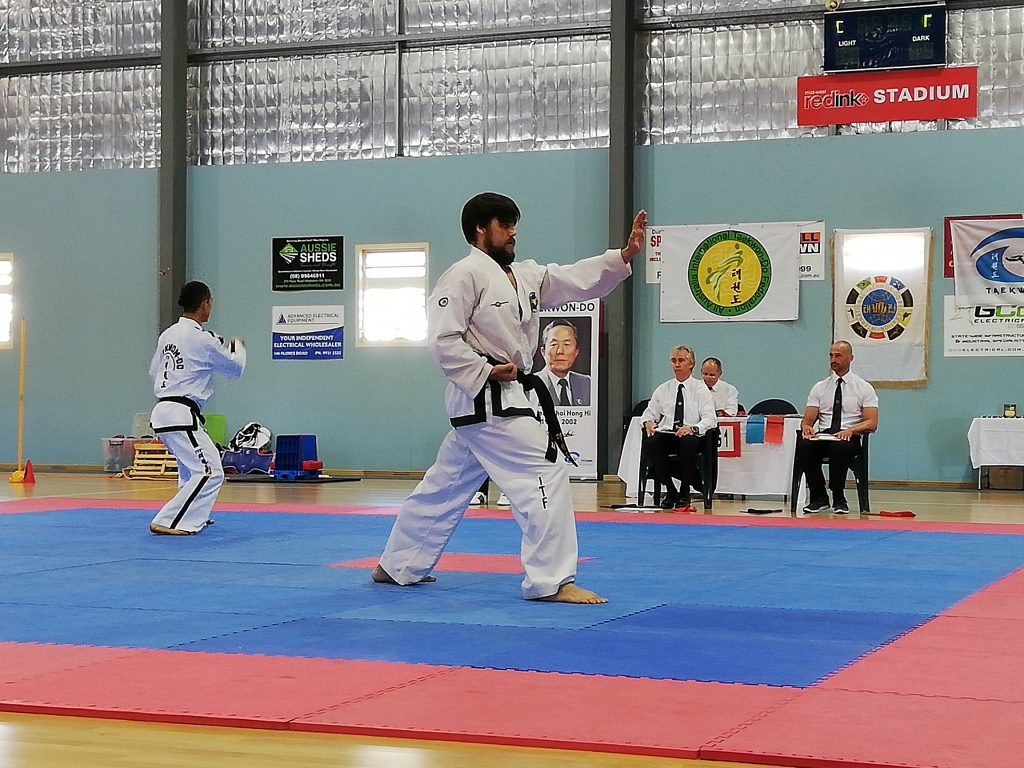 Taekwon-Do tournaments allow athletes to compete as an individual and in unique teams and the Oceanic Taekwon-Do Invitational included a broad range of these events individual patterns, sparring, special technique, power breaking and team sparring and patterns. For the juniors there was also a circuit combining fitness and Taekwon-Do techniques.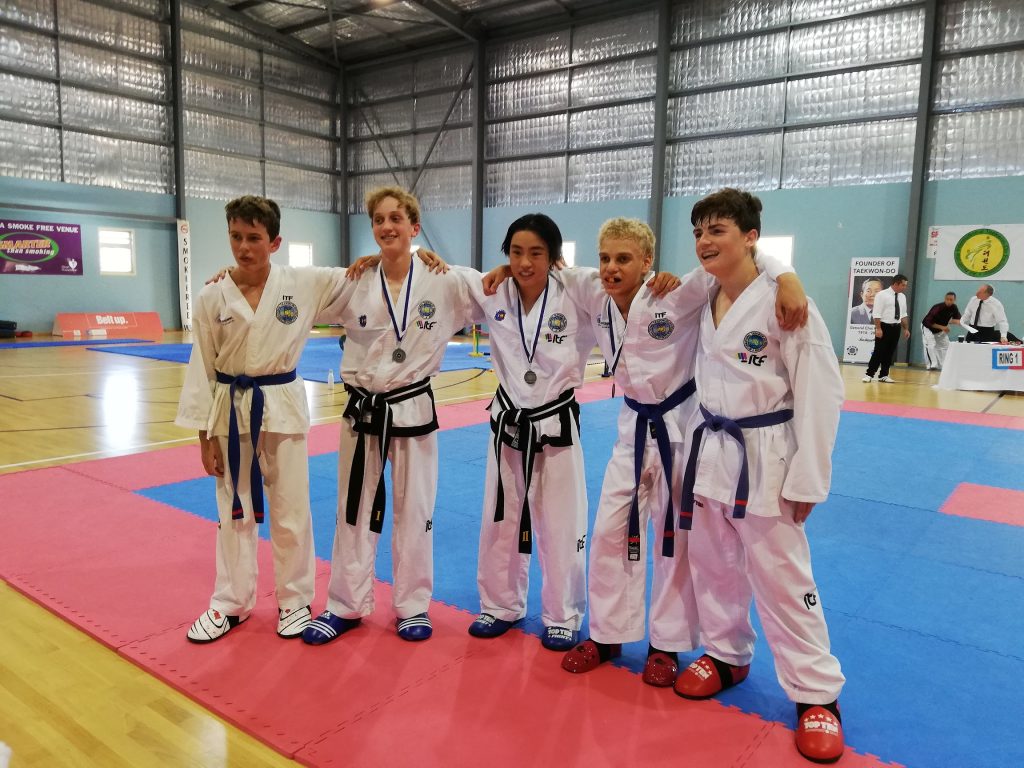 The Platinum Taekwon-Do team comprised of 13 juniors and 10 adults who performed very well across many age group and events with a final medal tally of 16 gold, 19 silver and 11 bronze.
This event preceeds the 2019 ITF Taekwon-Do World Championships 22-28 April in Inzell, Germany where Sabum Paul Raymond will coach for the Australian team and fifteen year olds, Aiden Duryea and Isaac Blackwell will compete as Junior Black Belts in sparring, patterns and prearranged free sparring.  The remainder of the Platinum Taekwon-Do team are looking forward to the WA State Championships in September.
Platinum Taekwon-Do Supporters
Shau Chong
Graham Blackwell
Shane Duryea
Martin Crossley
Platinum Taekwon-Do Competitors
JUNIORS
Euen Chong – II Dan
Individual Patterns – Bronze
Individual Sparring – Gold
Team Patterns – Gold
Team Sparring – Gold
Aiden Duryea – I Dan
Individual Patterns – Gold
Individual Sparring – Gold
Team Patterns – Gold
Team Sparring – Gold
Ashley Tan – I Dan
Individual Sparring – Silver
Elizabeth Tan – I Dan
Individual Sparring – Silver
Individual Patterns – Silver
Isaac Blackwell – I Dan
Individual Patterns – Silver
Individual Sparring – Silver
Team Patterns – Gold
Team Sparring – Gold
James Crossley – 3rd Gup
Individual Patterns – Bronze
Yenda Chong – 4th Gup
Gold for Individual Sparring – Gold
Individual Patterns – Bronze
Team Sparring – Silver
Laura Duryea – 4th Gup
Individual Sparring – Gold
Individual Patterns – Bronze
Team Sparring – Silver
Stefanie Crossley – 4th Gup
Individual Sparring – Bronze
Team Sparring – Silver
Kiran Chong – Junior 4th Gup
Individual Sparring – Bronze
Emily Raymond J6th Gup
Taekwon Warrior – Gold
Individual Patterns – Gold
Oliver Raymond 8th Gup
Taekwon Warrior – Bronze
Individual Patterns – Gold
Ada Chong 7th Gup
Taekwon Warrior – Silver
Individual Sparring – Bronze
SENIORS
Adeline Cheong VI Dan
Team Patterns – Silver
Paul Raymond – V Dan
Team Patterns – Silver
Michael Hayward – V Dan
Individual Patterns – Silver
Team Patterns – Silver
Tarquin Betuel – II Dan
Individual Patterns – Bronze
Individual Sparring – Gold
Team Patterns – Silver
Team Sparring – Silver
Power Breaking – Gold
Marc Crisp – I Dan
Individual Patterns – Bronze
Individual Sparring – Silver
Team Patterns – Silver
Team Sparring – Silver
Masaniga Boland – I Dan
Belinda Scott – I Dan
Vesela Crossley – 4th Gup
Mahir Meghji – 3rd Gup
Individual Sparring – Gold
Special Technique – Bronze
Will Dupuy – 3rd Gup
Individual Sparring – Silver
Team Sparring – Silver