MAYLANDS
Michael Hayward
mobile: 0432 915 545
email: mhayward81@yahoo.com.au
KELMSCOTT
Kristy Archibald
mobile: 0432 915 545
email: ptkdkelmscott@gmail.com
ALL OTHER LOCATIONS
Adeline Cheong
mobile: 0414 932 609
email: platinumtkd@hotmail.com
Testimonial
I first started Taekwon-Do for fitness, fun and to meet new people and it quickly met all of these needs and became a regular part of my life. After trying out two other clubs, I was immediately drawn to the friendly atmosphere of UWA Taekwon-Do (now also Platinum TKD) and knew that it was the club for me. I have now been training for eight years and achieved my first degree black belt in 2011.
While it has been excellent to gain all the physical skills of Taekwon-Do, what I did not expect was how much confidence it would give me. This new confidence has helped me to achieve things not only in Taekwon-Do but in my working and personal life also. I have also gained valuable leadership skills and a determination I didn't know I had which has translated into me being able to take on more challenging roles in both Taekwon-Do and my working life. In Taekwon-Do we learn the values of Courtesy, Integrity, Self Control, Perseverance and Indomitable Spirit. Remembering these values helped me get through difficult stages of my Taekwon-Do development (particularly grading for my red and black belts) but they have also made me a more resilient person in general allowing me to get over life's little hurdles more easily.
Instructors Adeline Cheong and Paul Raymond have been inspiring teachers who have not only supported me every step of the way but pushed me to get the very best out of myself. They are not only my instructors but have also become my good friends. Taekwon-Do has added a richness to my life in many ways I never expected and I look forward to the challenges and rich rewards that lie ahead of me.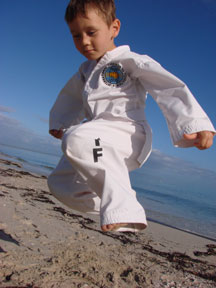 Sarah Heinzman