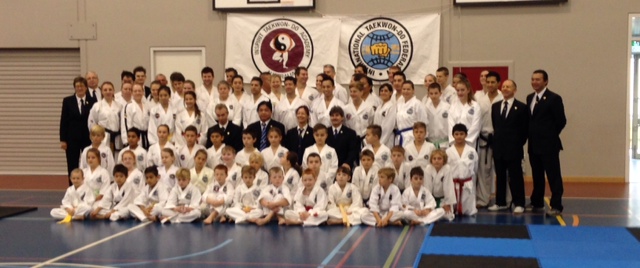 Inspirit Taekwon-Do Invitational Tournmament – 4 May 2014
It was a bit of a drive out to Aveley, but worth the trip as with 22 competitors the highlights for the Platinum Team kept coming all day long at today's Inspirit Taekwon-Do Invitational Tournament.
At times there was so much action happening at the same time that you had to switch your focus back and forth between the three rings to keep up with our students competing concurrently. By 1030am we had already secured 14 medals and the sparring hadn't even yet begun.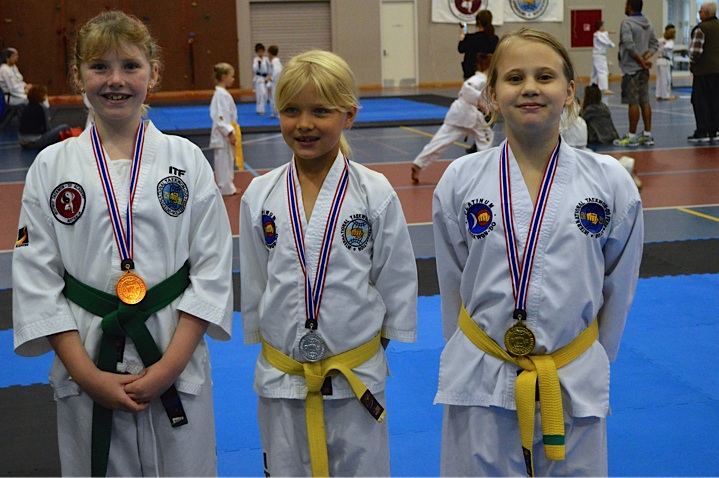 We finished the afternoon with team sparring, power breaking and special technique for the adult males and senior females. One of the most exciting bouts of the day was during the team sparring with Anthony Lim against a big and tall Black Belt; where Anthony's speed and agility shone through as he executed his techniques moving swiftly around the ring.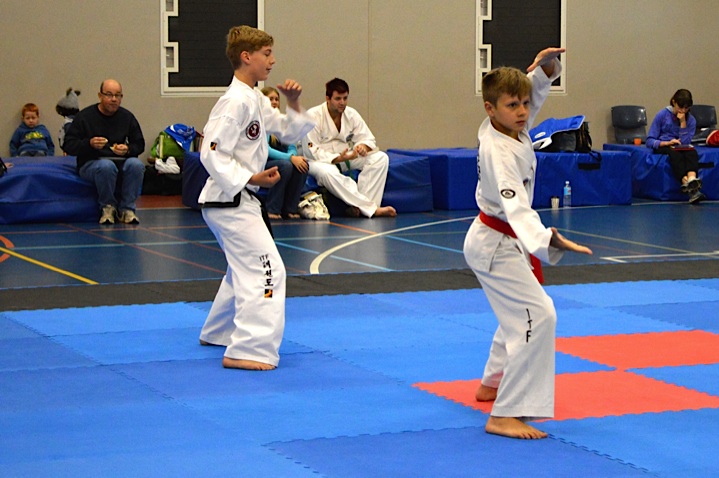 Special commendation goes to our junior competitors Ethan Grubba (7), Amelie Boyle (9), Jocelyn Brown (9), Angus Brown (10), Aiden Duryea (11), Isaac Blackwell (11), Jason Duryea (13) and Orla Bacon-Rees (16) who all displayed great focus, composure and competitive spirit.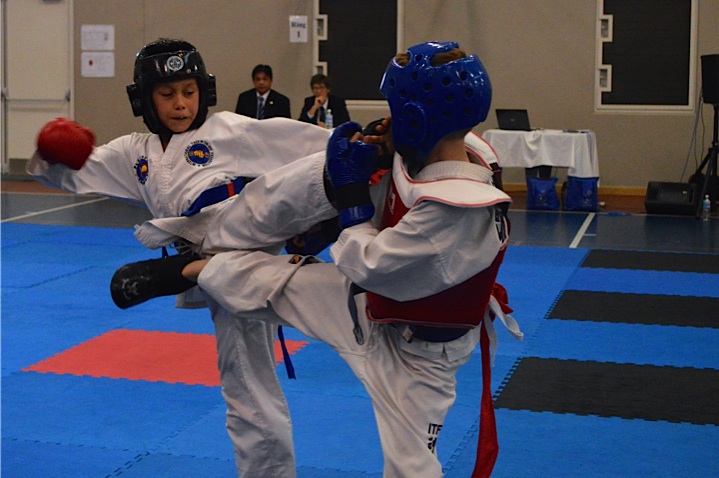 Other highlights included Isaac Blackwell's "special" secret weapon in sparring and the Team Patterns which presented the opportunity for students from our different Platinum Taekwon-Do dojangs to come together as well as combined efforts between juniors and seniors.
Like many competitions some of it comes down to the luck of the draw and those who have the courage to put their hand up to compete are all winners regardless of the result.
We were happy to be able to enter five teams into the team pattern event with special mention going to the color belt adults pattern team from the Maylands dojang who were very brave coming up against a whole lot of black belts!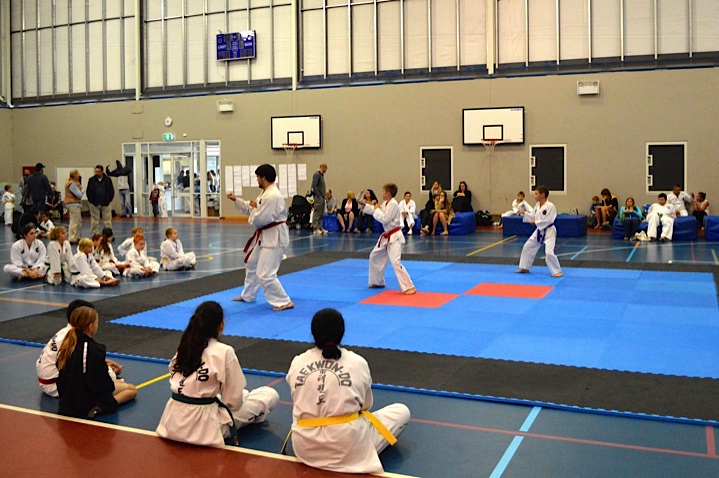 Even our youngest supporter 22 month old Oliver Raymond enjoyed the event and appropriately bid farewell to red belt Tarquin in style "see ya Tarquin-Do"!
A perfect way to spend your Sunday is competing and supporting a tournament…now for the National Championships on 17 May!
Our final medal tally of 47 medals is below.
Adeline Cheong, V Dan Black Belt 
Black Belt Male Patterns 3 Dan up
Bronze Paul Raymond
Female Colour Belt Patterns
Gold Teresa Le
Silver Masa Boland
Bronze Jenny Illgen
Black Belt Male Patterns
Gold Lukas Kuster
Bronze Anthony Lim
Colour Belt Male Patterns
Gold Tarquin Betuel
Bronze Marc Crisp
Junior Girls Patterns
Silver Jocelyn Brown
Gold Amelie Boyle
Boys Patterns
Gold Aiden Duryea
Bronze Isaac Blackwell
Senior Boys Patterns
Silver Jason Duryea
Senior Girls Colour Belt Patterns
Bronze Orla Bacon-Rees
Veterans Colour Belt Mens Patterns
Bronze Martyn Boyle
Bronze Tim Grubba
Junior Boys Flying high kick
Silver Ethan Grubba
Junior Girls Flying High Kick
Bronze Jocelyn Brown
Junior Girls Flying Side kick
Bronze Jocelyn Brown
Team Pattern
Bronze Green and Gold –
Topaz, Erin, Angus, Isaac, Teresa
Senior Team Pattern
Bronze Platinum Black – Paul, Michael, Anthony and Lukas
Womens Colour Belt Sparring
Gold Erin Dikstaal
Silver Topaz Betuel
Bronze Jenny Illgen
Mens Colour Belt Sparing
Gold Tarquin Betuel
Silver Tim Grubba
Bronze Marc Crisp
Black Belt Mens Middle Weight Sparring
Bronze Michael Hayward
Flying High kick
Silver Angus Brown
Flying Side kick
Bronze Angus Brown
Junior Boys Sparring
Gold Aiden Duryea
Silver Isaac Blackwell
Senior Boys sparring
Silver Jason Duryea
Team Sparring
Silver Platinum – Tarquin, Anthony, Lukas
Power Breaking
Bronze Tarquin Betuel
Male Special Technique
Bronze Anthony Lim
Silver Lukas Kuster
Female Special Technique
Bronze Orla